Área de acción:
Impact investments and entrepreneurship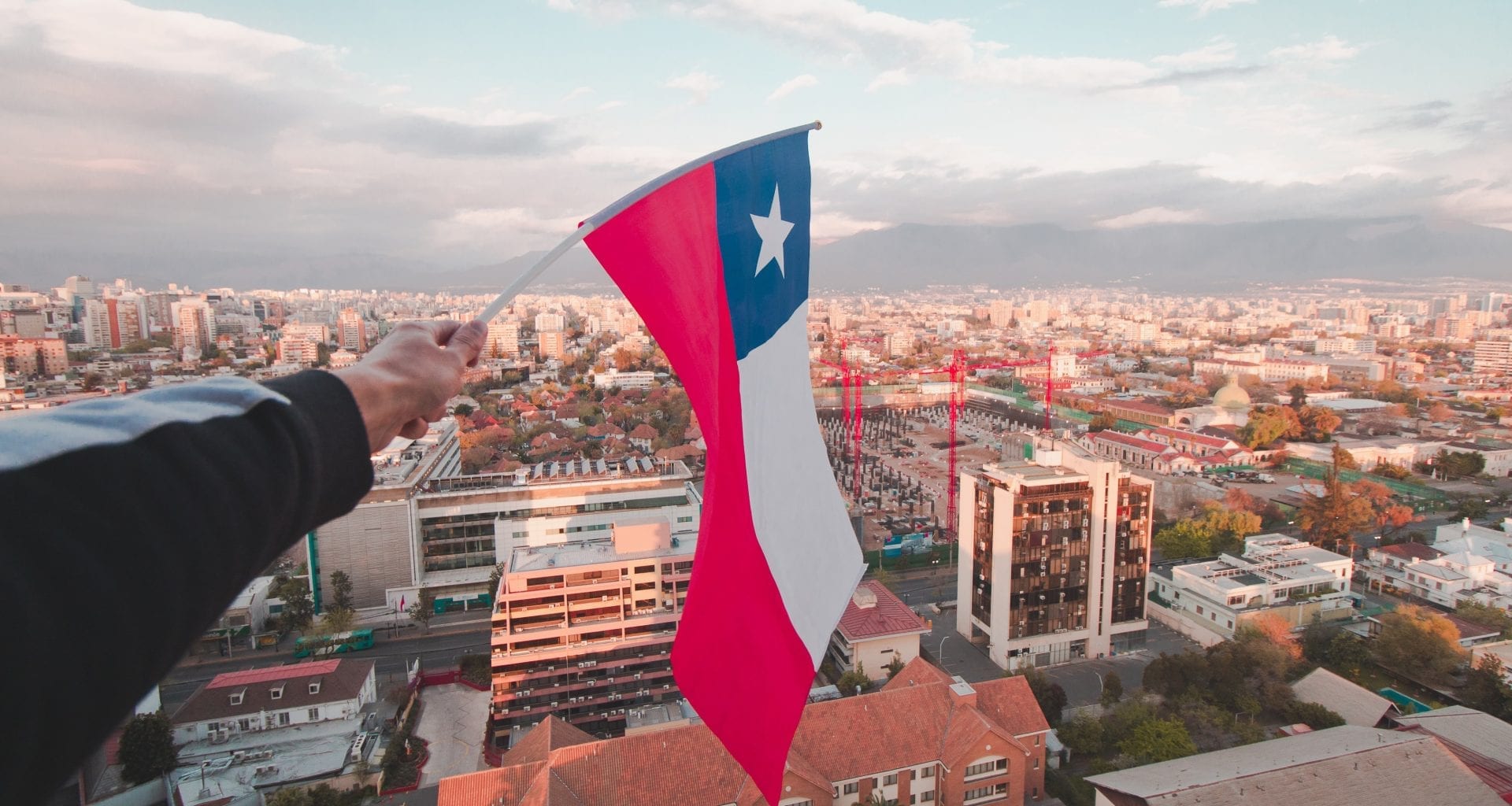 En los últimos años, el ecosistema de startups en Chile ha ganado protagonismo en Latinoamérica. Además de grandes startups como NotCo y Conershop, Chile cuenta con un ecosistema sólido de apoyo con incentivos para las startups nuevas y las que están iniciando un proceso de expansión agresivo.
En Startupeable, seleccionamos a nuestro top 11 de startups chilenas para seguir en 2020. ¡Conoce por qué las elegimos!
Si quieres conocer más de las startups en la región, te recomendamos leer nuestra Guía Introductoria de Startups en Latinoamérica.
Contenidosocultar1 Startups Fintech en Chile1.1 Fintual1.2 Chipax2 Startups chilenas SaaS2.1 Citysense2.2 Odd Industries3 Startups en Chile de Logística3.1 Justo3.2 Algramo4 Startups Marketplace en Chile4.1 Get on Board4.2 Houm5 Startups chilenas de Cleantech5.1 Scarab5.2 Polynatural5.3 AgroUrbana6 Preguntas Frecuentes
¿Quieres conocer más del Ecosistema de Startups y Capital de Riesgo en Chile? Entonces, revisa nuestro Mapeo Completo de Venture Capital en Chile.
Startups Fintech en Chile
Sectores: Fintech
Etapa y Capital levantado: Semilla // USD $920k
Año de Fundación: 2016
Fundadores:Agustin Feuerhake, Andres Marinkovic, Omar Larre, Pedro Pineda
Inversionistas: ALLVP, K50 Ventures, Y Combinator y VilCap Investments
Fintual es una startup fintech que ofrece una solución digital para la gestión de inversiones. Esta empresa es una Administradora General de Fondos, supervisada por la Comisión para el Mercado Financiero (CMF) en Chile, que implementó el primer robo-advisor en este país. Su tecnología se basa en la utilización de algoritmos para ayudar a los inversores a asignar sus carteras.
Actualmente, Fintual administra más de USD $57 millones de más de 8 mil usuarios en Chile. Además, este 2020 se alió con Invermerica, un gestor de fondos de inversión de México para iniciar su expansión a dicho país.
¿Por qué seguir a esta startup?: 
La industria de los fondos de inversión reúnen dos factores que las hacen perpetrar una mala experiencia de usuario. Por un lado, son altamente reguladas, lo que implica menos competidores. Por otro, los consumidores conocen poco o nada del servicio de inversiones por el que están pagando.
En ese contexto, Fintual surge como un haz de luz de innovación en un servicio vital para el futuro financiero de los trabajadores. A favor de la startup chilena está la población jóven que busca ahorrar, en términos sencillos y sin letra "chiquita". Por eso, Fintual puede convertirse en el principal robo-advisor de Latinoamérica.
Sectores: Fintech, SaaS
Etapa y Capital levantado: Semilla // –
Año de Fundación: 2016
Fundadores:Antonio Correa, Felipe Urzua, Joaquín Brenner, y François Gueneau de Mussy
Inversionistas: 500 Startups México
Chipax es una fintech chilena que ayuda a las PYMEs a llevar la administración de su negocio de forma ordenada y transparente. Su solución consiste en una plataforma 100% online con un sistema tipo ERP, donde se lleva registro de todos los ingresos y egresos como facturas, gastos, remuneraciones, impuestos, etc. 
Asimismo, esta plataforma se conecta con tu banco, con el fin de asociar cada movimiento de la cuenta con los registros de tu empresa. Así, esta herramienta te permite llevar ordenadamente tus estados de pago, te gestiona la cobranza (a través de envío de correos) y, a fin de mes, te genera los libros contables y la conciliación bancaria para el contador, los cuales puedes ver a través de un dashboard. 
Este 2020, la startup chilena tiene proyecciones de ingresos de USD $1 millón.  Ha lanzado nuevos servicios, como el de factura electrónica, y están preparando una ronda de inversión con la meta de llegar a USD $2.5M para expandirse más en Chile y entrar en el mercado mexicano para el 2021.
¿Por qué seguir a esta startup?: 
Esta startup chilena busca reemplazar a uno de los software más impactantes de la historia: Excel. La hoja de cálculo es el programa utilizado en más sectores y más áreas operativas de empresas alrededor del mundo. Sin embargo, siendo un producto tan amplio, no resuelve las necesidades operativas y administrativas de PYMEs en Latinoamérica.
El potencial de Chipax radica en que reemplaza un uso particular de Excel con una solución más a la medida, para un "nicho" de mercado bastante grande. A medida que estas PYMEs crezcan, se profesionalicen y se digitalicen, Chipax puede convertirse en la herramienta informática de administración "por default" cuando Excel ya no es suficiente.
¿Quieres levantar capital para tu startup?
Suscríbete y obtén un Roadmap con los requisitos que debe cumplir tu startup para levantar capital ángel y semilla.
​SoySoy emprendedorSoy inversionistaTrabajo en startupsApasionado del ecosistema startup¡ENVÍALO!
Startups chilenas SaaS
Sectores: SaaS, AI & Big Data
Etapa y Capital levantado: Semilla // USD $3M
Año de Fundación: 2015
Fundadores: Juan Saxton y Antonio Garcia
Inversionistas: Angel Ventures México, Endurance Investments, CLIN Fund y Fen Ventures
Citysense es una startup chilena que cuenta con una plataforma abierta para el desarrollo de soluciones Smart Cities, compuesta por una red instalada de satélites urbanos. A través de un modelo de Plataforma como Servicio (PaaS), los desarrolladores pueden utilizar Citysense para crear soluciones en sectores como: seguridad, transporte, medio ambiente, publicidad, entretenimiento y servicios públicos.
Cada satélite está armado con varios sensores ambientales y digitales que permiten que cualquier objeto se conecte a la nube. Mediante una plataforma de pago por uso, puedes conectarte a las ciudades al instante, sin la necesidad de instalar una infraestructura en la ciudad. Por ejemplo, durante la cuarentena, Citysense lanzó un micrositio web que permite monitorear la movilidad de las personas durante este periodo en Santiago.
¿Por qué seguir a esta startup?: 
Las startups con capacidad de obtener big data valiosa expanden la frontera de posibles servicios y productos en un sector determinado. Este modelo de negocio es difícil de escalar, pues la tecnología requiere algunos años de desarrollo antes de alcanzar una masa crítica de datos que sea comercializable. 
En esta línea, la tecnología de Citysense ya alcanzó la madurez suficiente para habilitar servicios en distintos sectores. Hacia adelante, el potencial de mercado es enorme y el reto de la startup chilena es encontrar más casos de uso para su PaaS.
Sectores: SaaS, AI & Big Data
Etapa y Capital levantado: Semila // USD $2.2M
Año de Fundación: 2016
Fundadores: Leo Prieto
Inversionistas:Google Launchpad Accelerator y Google for Startups
Odd Industries es una startup chilena que ha desarrollado sus propias soluciones de hardware y software para hacer más eficientes las industrias menos digitalizadas como la construcción, logística, ciudades y fábricas. Ellos aplican la inteligencia artificial utilizando machine vision,  lo que les permite ser más precisos que el ojo humano y crear datos estructurados a partir de imágenes. 
Principalmente, la empresa se está enfocando en el sector de construcción y ha logrado que sus clientes reduzcan sus atrasos hasta en un 45%. La visión computarizada de Odd Industries permite monitorear todos los procesos de la obra a la vez y en tiempo real. Además, puedes auditar fácilmente el cumplimiento de los colaboradores, eliminar cuellos de botella y optimizar los flujos en las obras.
¿Por qué seguir a esta startup?: 
En Latinoamérica, industrias como la minería, la logística, y la construcción tienen una baja adopción de tecnología e innovación. Estos sectores se caracterizan por procesos complejos y muchas veces de legado, que dificultan su optimización.
En este escenario, la propuesta de Odd Industries de aplicar tecnología de alta precisión en ambientes de trabajo como la construcción permite optimizar procesos, que antes no eran perfectibles. El potencial de esta startup chilena radica en que abre un abanico de eficiencias en industrias caracterizadas por márgenes reducidos y volúmenes grandes.
Startups en Chile de Logística
Sectores: Logistics, E-commerce
Etapa y Capital levantado: Semilla // USD $130 mil
Año de Fundación: 2018
Fundadores:Nicolás López Jullian y Rodrigo Segal
Inversionistas: Y Combinator
Justo es una startup chilena que habilita el delivery de comida online para restaurantes . A diferencia de otras startups como Rappi o Uber Eats, cada restaurante cuenta con una página web con dominio propio, lo que les permite tener información de sus clientes y recibir reportes de ventas y visitas periódicamente. Además, la comisión por entrega que le cobran a los restaurantes es un porcentaje mucho más bajo que el promedio, entre un 7 y 12%.
Actualmente, Justo trabaja con alrededor de 2,500 restaurantes, 1 millón de pedidos procesados y 25 mil repartidores en todo Santiago de Chile. Además, el contexto de la pandemia les permitió crecer hasta en un 500% debido a la cantidad de pedidos que se generaron durante esta etapa de cuarentena. A mediados del 2020, la compañía inició su proceso de expansión por América Latina, comenzando por México.
¿Por qué seguir a esta startup?: 
Durante los últimos 5 años, Rappi y Uber Eats han sido las únicas soluciones viables de digitalización para los restaurantes. Ambas aplicaciones móviles han logrado concentrar a gran parte de – por no decir toda – de los usuarios que demandan del delivery de comida. En consecuencia, estos restaurantes se han visto obligados a pagar comisiones de venta entre 15 a 35% a la startup colombiana y la americana.
En este contexto, esta startup chilena surge como un liberador de los restaurantes del control de las aplicaciones, ofreciendo una solución de e-commerce más "Justo". El crecimiento exponencial de Justo en Chile y el consecuente lanzamiento de Propio (la solución similar a la de la startup chilena de Rappi) son señales del Product Market Fit de Justo y que la compañía tiene un potencial altísimo.
Sectores: Logistics, Retail
Etapa y Capital levantado: Semilla // USD $40K
Año de Fundación: 2013
Fundadores:José Manuel Moller Dominguez
Inversionistas:Closed Loop Ventures, Chivas Venture y Startup-Chile
Algramo es una startup chilena que ha desarrollado un sistema de ventas retail para la compra a granel, que reduce el uso de envases de plástico y los costos de comprar en cantidades pequeñas de los usuarios. La empresa distribuye productos como detergente y comida de perro, en sus máquinas dispensadoras por un precio a granel y en envases reutilizables.
Este modelo de negocio responde al problema de falta de liquidez en las familias de escasos recursos que consumen cantidades en envases pequeños que terminan siendo más caros. En Chile, la startup ya ayuda a 325 mil clientes. Además, combate el problema de la contaminación al ofrecer envases retornables, con el que, para el año 2020, la cantidad de personas que regresaron con su envase pasaron de ser un 5% a un 80%.
¿Por qué seguir a esta startup?:
El problema del uso excesivo de plástico es responsabilidad tanto de las compañías como de los consumidores. Por el lado de las empresas, está siendo controlado con leyes, sanciones, y políticas corporativas de reducción del uso de plástico innecesario en las operaciones. De lado de los usuarios finales, este tipo de control es más difícil y necesita sistemas que alineen los incentivos.
Eso último es, justamente, lo que Algramo ha logrado crear: un sistema eficiente y escalable que premia a los consumidores por hacer un uso responsable del plástico. En agosto, la startup chilena lanzó un piloto de su plataforma en Brooklyn, Nueva York. Esto prueba que el potencial de negocio e impacto de Algramo es enorme, pues se trata de un problema global.
Fuente: startueable.com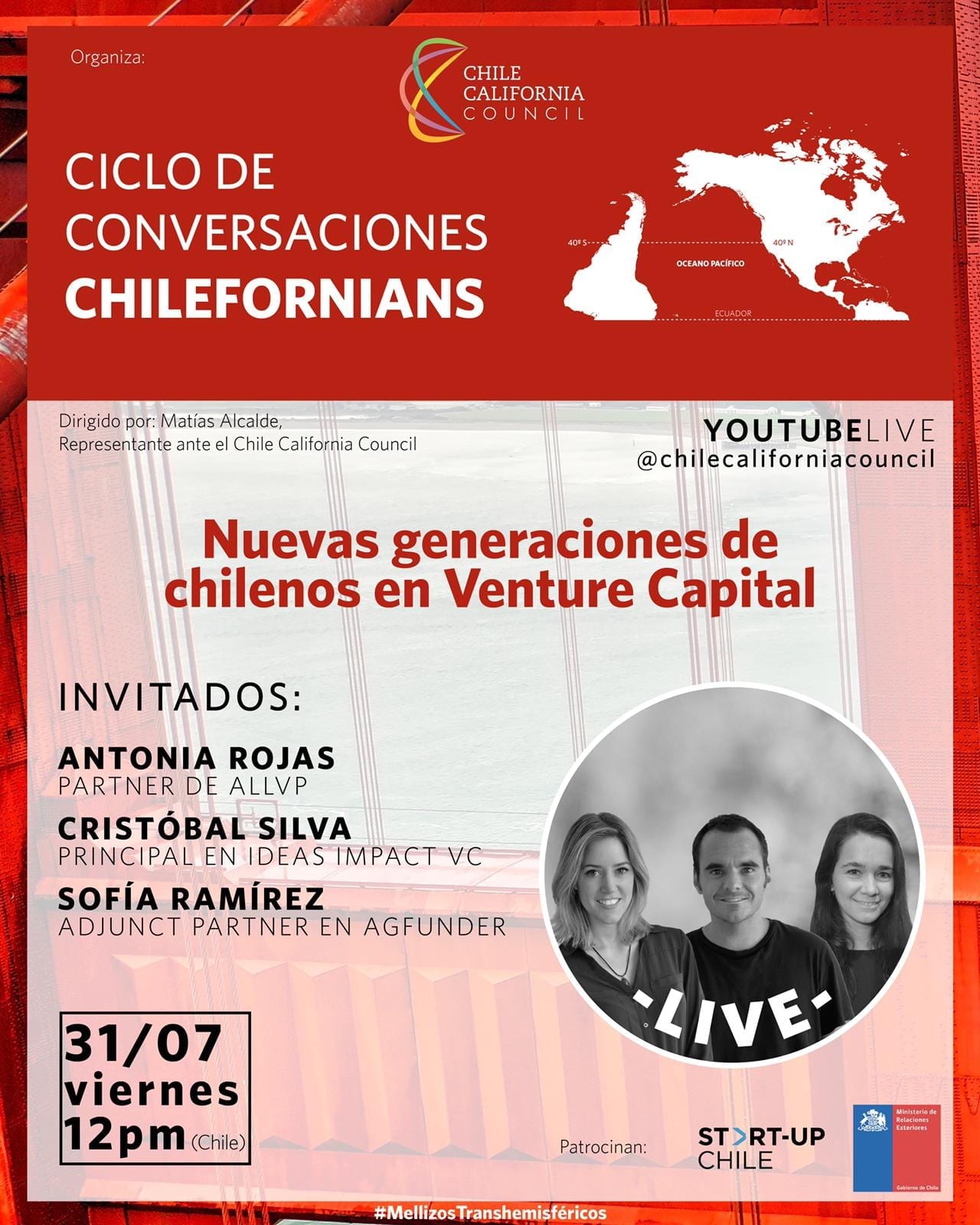 Antonia Rojas
Antonia is a Partner of ALLVP, Venture Capital's leading investment fund in Spanish-speaking Latin America. Before ALLVP, Antonia was a partner of the Chilean fund Venture Capital Manutara Ventures and was an investment manager in the real estate fund Trigono Inversiones.
She is a Commercial Engineer from the Pontificia Universidad Católica de Chile and completed a Master in Social Entrepreneurship at Hult International Business School in San Francisco.
Antonia is a member of the Kauffman Fellows Class 25, and has been recognized among the top technology investors in the region in 2018 and 2019 by LAVCA.
Cristóbal Silva 
Cristóbal has 10 years of professional experience in the investment sector, mainly in public markets. Before leaving for the United States in 2015, Cristóbal was the Portfolio Manager of a US $ 1bn fund invested in stocks and debt in Latin America. After his MBA, Cristóbal joined Orbis Investment Management, a US $ 35bn Global fund based in San Francisco. At Orbis, he was responsible for generating and monitoring investment opportunities, and building the Global portfolio. In July of this year, Cristóbal joined the new firm Ideas Impact Venture Capital as Principal. Ideas Impact seeks to invest in Seed and Series A rounds in ventures led by people who want to generate a change in the world. Cristóbal is a PUC Business Engineer and holds an MBA from Columbia Business School in 2017.
Sofía Ramírez:
Sofía Ramírez is an Associate Partner at AgFunder, a San Francisco venture capital that is one of the most active in the world in its industry, investing in technology companies that seek to transform our agricultural and food system.
Prior to AgFunder, she was part of the founding team of Liventus, one of the fastest growing agfoodtech startups dedicated to reducing food waste in the supply chain, extending the life of fruits and vegetables. She spearheaded the company's global market introduction, growth and expansion in Latin America, Europe, Asia, South Africa and North America, increasing its global market share from 0% to 30% in three years.
Sofía has studied Business and Journalism at UC Berkeley, Singularity University, and Pontificia Universidad Católica de Chile, and has worked in multiple locations, including Santiago, Singapore, Mexico City, and San Francisco.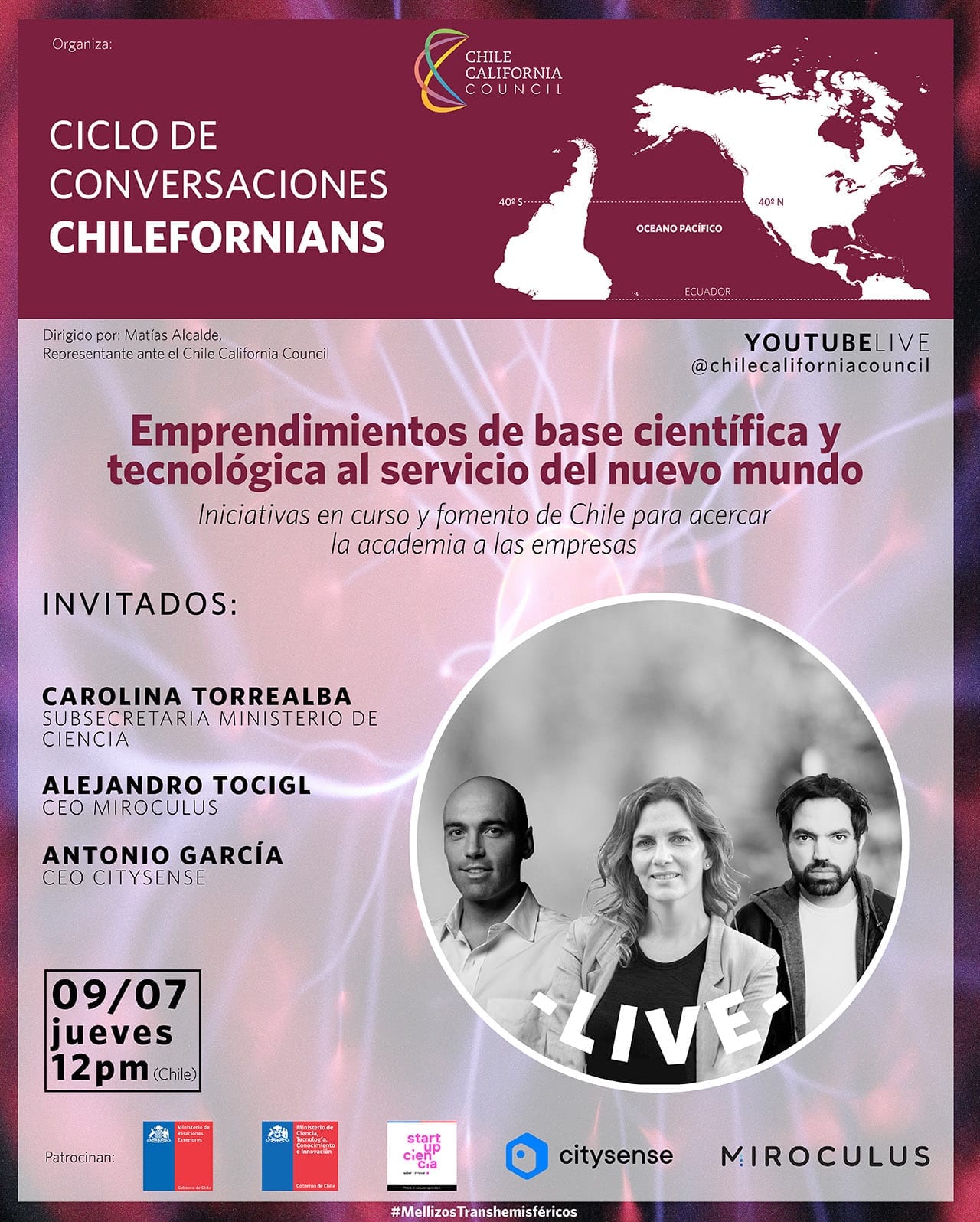 Carolina Torrealba:
Degree in biology and a doctorate in cellular and molecular biology from the Pontificia Universidad Católica de Chile.
First Undersecretary of Science, Technology, Knowledge and Innovation of Chile since December 2018, when President Sebastián Piñera entrusted her and Minister Andrés Couve with the task of building the new Ministry.
Between May and December 2018, she was Executive Director of the Millennium Science Initiative, a program of the Chilean Ministry of Economy that finances and promotes scientific centers of excellence. Between 2011 and April 2018, she was part of the Executive Committee of the Science and Life Foundation, where she directed programs of international scientific networks and the strengthening of research.
She is the author of the book "Pioneros. The beginning of experimental research in Chile", for which she was recognized with the Manuel Montt Prize. She participated as editor of two other books and founded the Editorial Ciencia & Vida. Currently, she is also a member of the Fundación Chile Board of Directors.
Alejandro Tocigl:
Alejandro is the co-founder and CEO of Miroculus, a San Francisco-based biotech company, as well as being a co-founder of F4F.
Alejandro is a Commercial Engineer from the U of Chile. He then went to a business school at ESSEC in Paris and subsequently attended the Graduates Studies Program at Singularity University.
He has been recognized within the 100 young leaders of the Saturday Magazine, 25 young influencers from the Financial Journal, Innovadores M35 Latam from the MIT Technology Review, he is an Endeavor entrepreneur and belongs to the Stanford network of entrepreneurs.
Antonio García:
Antonio García is an industrial civil engineer by training. Recently graduated, he worked in the financial and m&a sector. Soon after, he co-founded Cowork LATAM (2012), currently one of the most important flexible office actors in Latin America, with more than 30 spaces in 4 countries. In 2018, motivated by reversing the air pollution problem in Santiago, he founded citysense Co. Currently citysense is a network of urban satellites that provides services for the IoT industry and smart cities. Sensors and communication systems open to the community of creators. Solutions for the environment, security, logistics, marketing and smart governments have been developed on citysense. The last case to highlight, the measurement of mobility in the city of Santiago in times of Covid, using the urban satellite network to detect the passage of cell phones, completely anonymously and adjusted to the GDPR. Antonio has been an exhibitor at TEDx, ICARE and is an Endeavor entrepreneur since 2019.