Historic, unforgiving Western heat wave is peaking and crushing records
California's inland and valley regions are seeing unprecedented September temperatures over 110 degrees, while the state's power grid is near the brink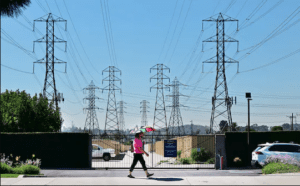 A pedestrian uses an umbrella as a shield from the sun while walking past power lines in Rosemead, Calif., on Aug. 31. (Frederic J. Brown/AFP/Getty Images)
A historically severe September heat wave is baking the West, breaking hundreds of records, posing a danger to public health and pushing California's power grid to the limit. Some records have been shattered by wide margins as the scorching air mass exacerbates the fire danger in the drought-stricken region.
Nearly three hours after the alert was issued, California ISO said it was ending the alert after stability had been maintained, in large part due to consumers conserving power. The operator said it had not needed to cut power to any customers during the alert.
The power grid hit a peak demand of 52,061 megawatts Tuesday evening, "a new all-time record," California ISO said, surpassing its previous record of 50,270 megawatts on July 24, 2004.
The ISO urged residents to "precool" their homes to 72 degrees Tuesday and Wednesday mornings, and then turn the thermostat to 78 degrees during peak demand hours between 5 p.m. and 9 p.m. It has called for such reductions on seven straight days.
The heat taxing the state's power grid is historic for both its duration and intensity, evidenced by the continued toppling of long-standing monthly and all-time records.
"This will be essentially the worst September heat wave on record, certainly in Northern California and arguably for the state overall," said Daniel Swain, a climate scientist at UCLA, in a Twitter Spaces discussion Tuesday. "By some metrics, it might be one of the worst heat waves on record, period, in any month, given its duration and its extreme magnitude, especially in Northern California and especially in the Sacramento region."
Forty-two million Americans are under excessive heat warnings, including across most of California, northeast Arizona and adjacent southern Nevada. The Great Basin, southern Idaho and western Utah are under heat advisories.
"Extreme heat will significantly increase the potential for heat-related illnesses, particularly for those working or participating in outdoor activities," wrote the National Weather Service. "[There is a] very high risk of heat stress or illness for the entire population."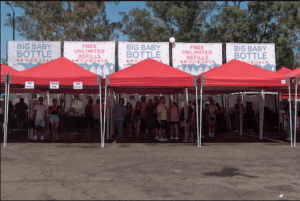 People cool off under tents equipped with misters during a heat wave in Sacramento on Sept. 4. (Laure Andrillon/Reuters)
The excessive heat is also fueling the risk of fast-moving fires.
Red-flag warnings — connoting dangerous fire weather — encapsulate the entirety of Montana in addition to northern Idaho, much of Oregon, and northern and eastern Washington.
A number of large wildfires have erupted over the past week in California, Oregon, Idaho and Montana. The fast-moving Mill Fire, which erupted Friday in Northern California, killed two people and injured three. On Monday, two people died and another was injured by the Fairview Fire, which started near the city of Hemet, which is about 75 miles southeast of Los Angeles in Riverside County.
In Southern California's San Bernardino County, Big Bear Mountain ski resort was using water from snowmakers to hold back the Radford Fire, which had grown to 450 acres.
The National Interagency Fire Center elevated the need for national fire preparedness to Level 4 out of 5 because of hot, dry and windy conditions predicted for the foreseeable future.
Extreme heat to persist for several days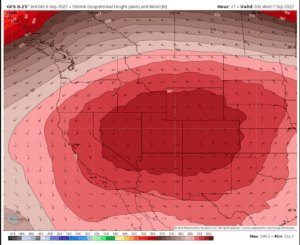 The instigating heat dome across the western United States. (WeatherBell)
The heat, which reached a blistering crescendo Tuesday, will remain at extreme levels through Thursday as a stagnant high pressure "heat dome" crests overhead.
"[D]angerous heat will likely persist through the end of the week," wrote the Weather Service office in Sacramento on Tuesday.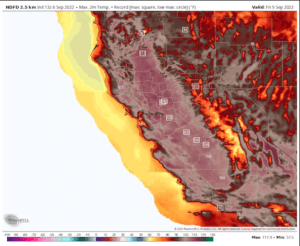 The National Weather Service's forecast for highs each day through Friday; boxes represent where records are likely to be tied or broken. (WeatherBell)
The heat traces the spine of California down to the Bay Area and Southern California too.
Los Angeles will spend the next few days in the mid- to upper 80s, but the temperature should peak around 90 degrees on Friday. Keep in mind that estimate is at the airport, though — just a few miles inland, highs will hover around 100 to 105 degrees.
Death Valley, Calif., has hit at least 124 degrees four times in the past six days and is expected to top 120 degrees through Thursday.
The heat has been spilling east too, bringing toasty weather to Denver, with record highs in the upper 90s to near 100 projected through Thursday. Salt Lake City — which soared Tuesday afternoon to a September record of 105 degrees — will continue to hover in the low 100s.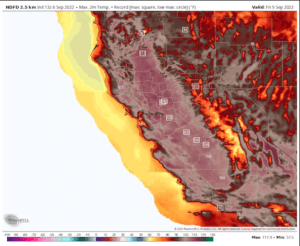 Predicted temperature difference from normal over the western United States on Wednesday by the National Weather Service. (WeatherBell)
When will the heat ease?
The heat will begin to gradually ease after Thursday. Temperatures closer to average will return to much of California over the weekend, although temperatures will remain somewhat above normal over the Pacific Northwest and Northern Rockies.
Around that time, moisture from
Hurricane Kay in the Pacific
 southwest of the Baja Peninsula could begin wafting northward, lowering temperatures and possibly bringing some beneficial rainfall to Southern California and even farther north. However, its specific effects on the region are highly uncertain and it could also increase the 
potential for dry lightning
 that could increase the fire risk.
Climate change connection
While extreme heat events are not caused by climate change, human influence on our atmosphere is making them more frequent, intense, prolonged and, in some cases, larger. It propels already high-end events into record territory.
Breaking records by large margins, the heat wave bears shades of the unprecedented events that torched the
Pacific Northwest in June of 2021
 and 
Britain in July
, both of which scientists concluded would have been virtually impossible without human-caused climate change.
Stateside, over the past week, more than 1,141 warm-weather records have been set in the United States compared with just 36 cold records. If climate change wasn't a factor, these extremes would roughly balance out.
From California to Montana, hundreds of heat records have been set since Aug. 30, and dozens more are in jeopardy over the coming days.
In addition to calendar-day records, multiple locations have set monthly records and even all-time records (the warmest temperature observed in any month). We highlight some of the of most significant here:
Downtown Sacramento set an all-time high of 116 degrees on Tuesday, surpassing the previous mark of 114 from July 17, 1925. Records there date back to 1877. Stockton tied its all-time high of 115.
San Jose, Calif. set a record of 109 degrees Tuesday. King City (116), Santa Rosa (115), Napa (114) and Redwood City (110, tie) also set all-time highs, according to the Weather Service office serving the Bay Area.
Ukiah, Calif., about 100 miles north of San Francisco, tied an all-time high of 117 degrees Tuesday.
Salt Lake City has broken its previous September record high four times in six days. It hit 105 on Tuesday, 104 on Monday, 103 Saturday and 102 Thursday. The previous monthly record was 100. It has hit at least 100 six times this month. Before 2022, it had only done so three times during September dating to 1928.
Bakersfield, Calif., hit 115 Tuesday, tying its September record high. Other September highs set Tuesday include Vacaville (115, tying Monday), Marysville (115), Hanford (114), Fresno (114) and Modesto (111).
Death Valley hit 125 degrees Tuesday, tying its September record high and missing the September world record by just 1 degree. On Saturday, the low temperature in Death Valley of 102 degrees tied the highest minimum temperature ever recorded worldwide during September. It has topped 120 degrees on eight straight days, setting calendar day records of 123 on Wednesday, 124 on Thursday, 124 on Friday, 122 on Saturday, 124 on Sunday and 125 on Tuesday. It has established a new September record for most days reaching at least 120.
Reno, Nev., set a September record high of 106 on Tuesday, beating the previous record of 104 set Sunday, after tying the previous monthly mark of 102 on Friday.
Grand Junction, Colo., set a September record high of 101 Tuesday.
Fairfield, Calif., about 40 miles northeast of San Francisco, set an all-time high of 117 degrees Monday — three degrees above the previous record. Livermore set an all-time high of 116 on Monday which it matched on Tuesday.
San Diego tied its all-time warmest low temperature on record Sunday, falling to just 78 degrees.
Burbank, Calif., matched its all-time warmest low temperature on Sunday, only dropping to 82 degrees. On Wednesday, it set an August record high temperature of 112.
Las Vegas set a September record high minimum temperature of 87 on Sunday.
Casper, Wyo., set a September record high of 100 Sunday.
On Saturday, many locations in the Mountain West set September record highs, including Great Falls (102), Bozeman (10o) and Butte (96) in Montana and Pocatello (102) and Idaho Falls (99) in Idaho.
The heat even surged into western Canada on Friday, where the village of Lytton set a September record for British Columbia of 103.3 degrees (39.6 Celsius).
Redmond, Ore., set a September record high of 106 on Friday.
Medio: The Washington Post